Well, a lot can happen in 6 months.
Twas the night before Christmas....and I finally finished all my knitting. What a race to the finish line that was! I will try to round up some photos of the finished products.
Sewing....well, we didn't quite make that deadline. The Thursday before Christmas, I emerged from the basement to inform the hubbie that we had a death in the family. MY SEWING MACHINE!!!!!!!!! I was able to finish all the fleece outfits, pj pants for the boys, and one quilt. When I got to quilt #2, well 'ol sewie gave out and gave up the good fight. There was not a whole lot I could do at that point, so I was forced to give D an unfinished quilt.
The good thing out of it was my b-day and anniversary was right around the corner, so the hubbie bought me this: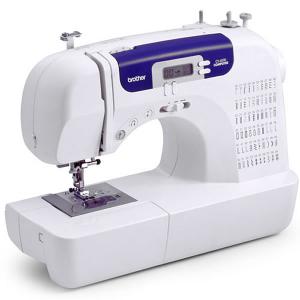 Mine is pink, and it has everything to last my sewing needs for a very long time. I couldn't be happier.
Other things that you can do in 6 months:
1) Buy a house. (In which I have my very own CRAFT ROOM!!!!!!!)
2) Sell a house (FINALLY!!!).
3) Totally repaint new house 2X in 4 days.
4) Move into new house.
5) Celebrate 6 years of marriage.
6) Turn 27......uh, for the 3rd time.
I've done more, but those were the high points.
Spring Break, I finished the boys' new "super" room. Picts can be found here:
Knitting wise, I have been on a washcloth kick. The boys are both in tap and ice skating, so I find washcloths easy to knit. Currently I am working on a sweater for my mom. Wish me luck, she is REALLY picky and I may be froggin' and reworking parts to get one that she is happy with. But I am determined to get a fit that she will be happy with.
I have many other projects on the needles and in the que, but have been trying to get mom's sweater done first.
I have also been acquiring lots of sock yarn for the summer. (picts later today).
Must be moving along. The boys will have their end of year picnic this morning followed by pre-school graduation on Wed *sniff*. (I am not looking forward to their HS graduation. I am already facing "empty nest" syndrome and a total wreck just thinking about them going off to school 5 days a week in the Fall.)